New facility for Marian University's School of Engineering opens.
Indiana Governor Eric Holcomb joined Marian University leaders, community and business leaders, students and faculty, and special guests Thursday, August 10 to celebrate the ribbon cutting and grand opening of the new E. S. Witchger School of Engineering Center.
Browning was honored to be in attendance as the General Contractor for the project alongside over 400 attendees including Marian University faculty, staff, alumni, current and prospective students, other industry partners, members of the community and special guests, including Speaker of the Indiana House of Representatives Todd Huston and Indiana Secretary of Education Dr. Katie Jenner.
New engineering center built for collaboration and hands-on learning.
The new, state-of-the-art E. S. Witchger School of Engineering Center was built specifically to provide students with the learning environment, equipment, and technology they need to succeed during their collegiate career and beyond.
The 78,000 square foot, state-of-the-art facility features:
High-tech classrooms built for interaction and hands-on learning that allow students to take theory learned in the classroom and apply them in various laboratory settings.
Thirteen laboratories featuring collaborative robots, machine shop and Maker Space, materials testing and characterization equipment, wind tunnel for aerodynamic testing, and a two-story process control unit.
Five study and collaboration spaces, and a prayer room.
Signature artwork reflecting Marian's Catholic Franciscan values.
A sky bridge connecting the new Witchger Center to Marian Hall.
We would like to thank the amazing team of architects, engineers, and subcontractors that we partnered with to construct the E. S. Witchger School of Engineering for Marian University as they move forward in their mission to be a Catholic university offering Bachelor of Engineering degrees rooted in the liberal arts tradition with the goal of graduating a diverse pipeline of talented leaders who will meet the critical workforce need for engineers in Indiana and Midwest.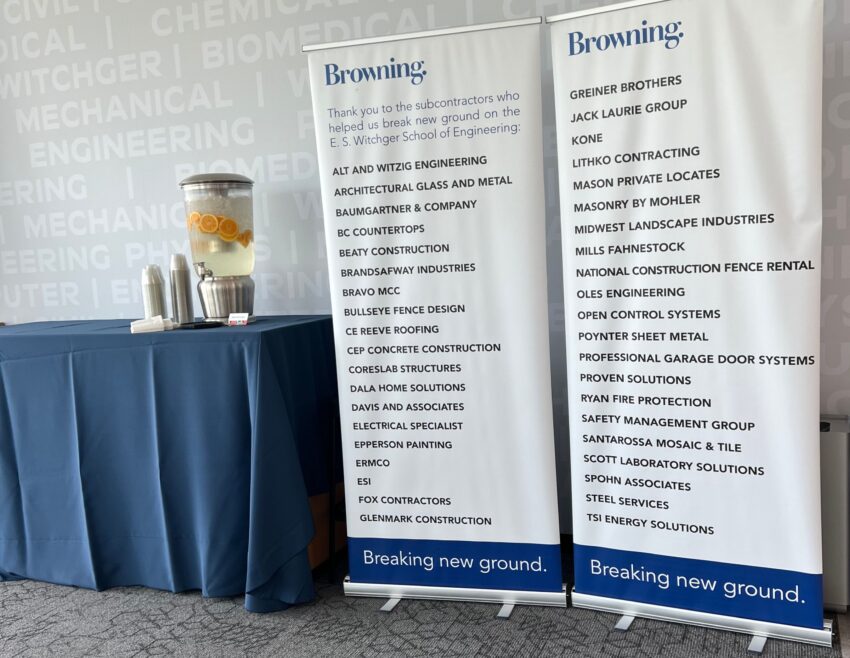 Perkins&Will – Chicago Office – Design Architect
Browning Day – Architect of Record
Schmidt Associates – MEP
CE Solutions, Inc. – Structural Engineers
JQOL – Structural Engineer
Cripe – Civil Engineer